Neal Petersen author of Journey of a Hope Merchant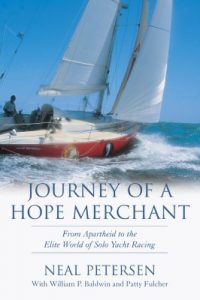 From Apartheid to the Elite World of Solo Yacht Racing
Winner – National Outdoor Book Award, 2005
"If I were on a boat in trouble, or anywhere in danger for that matter, I'd want Neal Petersen beside me. He never gives up, never quits; he always finds a way to fix something, to get the thing done, to stay alive. "Journey of a Hope Merchant" is a wonderful account of the world's most unlikely and most determined sailor, who hauled himself up and out of apartheid South Africa into the cockpit of his own, home-built, round-the-world racing yacht. Petersen's life is a terrific and inspiring story of triumph over adversity achieved by courage and ability, and his rise above shameful race prejudice is a prolonged act of grace. To put it simply, Petersen is a true hero." – Derek Lundy, author of the New York Times Bestseller "Godforsaken Sea"
Neal Petersen was born physically disabled and impoverished in apartheid-era South Africa, but was introduced to healing and equality in the waters surrounding Cape Town. Journey of a Hope Merchant recounts the epic journey that took this misfit kid from a racially segregated, working class neighborhood to the prestigious world of solo yacht racing.
His gripping account of the 1998-99 Around Alone race, made famous by the mid-ocean rescue of the French sailor Isabelle Autissier, may become a classic of nautical writing.
Written with a freshness and style that reflect his unstoppable optimism, the story of Petersen's compelling journey is proof that the harshest lessons learned at sea apply to all aspects of life and that even the wildest dreams are attainable.
His neighbors, after years of coaxing out the details of his adventures and stories, encouraged Neal to give life to his words on paper. With their help, Journey of a Hope Merchant was born: Patty Fulcher and William P. Baldwin, the Lillian Smith Award-winning novelist also responsible for writing the national bestseller "Mrs. Whaley and Her Charleston Garden".
Neal Petersen is a gifted and engaging professional speaker who has incorporated his tale of sailing around the world alone into his motivational presentations. The challenges involved in such an incredible accomplishment serve as illuminating examples of the fact that if you believe that there are "no barriers, only solutions", you can succeed in realizing your most heartfelt dreams.
Journey of a Hope Merchant has won 2005 National Outdoor Book Award and the Silver Medal at ForeWord Magazine's Book of the Year competition in the Adventure/Recreation category.
JOURNEY OF A HOPE MERCHANT: From Apartheid to the Elite World of Solo Yacht Racing by Neal Petersen
——————————————————
Neal is an internationally recognized motivational speaker. Through his keynote presentations, he has already brought his message of inspiration to people in such diverse locations as New Zealand, Uruguay, Western Europe, and his home country of South Africa, among others. If you are interested in having Neal for speaking engagements, book signings, interviews, or other information, please contact your booking agent.
Photos that tell the Neal Petersen story.