We always like to hear from speakers who have accomplished the unimaginable and Neal certainly fits this description. He delivered his powerful message in a unique and compelling way that captivated our audience. His story of overcoming barriers resonated with our attendees and provided them with the motivation needed to tackle daily obstacles. The research he conducts on the company in advance of the key note allowed him to connect in an even deeper way. Overall, well worth the investment.
Mark Clemente
Corporate Communications
PNC Financial Services Group, Inc.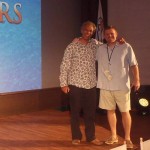 Neal and Mark during rehearsal.